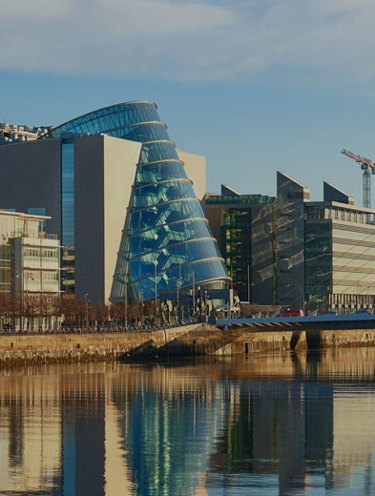 Giving me confidence
Canada Life International Assurance (Ireland) DAC
A wide range of solutions to suit your individual needs
We offer a variety of international solutions which are designed to grow your savings and investments. Tax-efficiency is at the heart of our proposition and our services include international investment, estate planning and protection solutions. It also has the flexibility to adapt to your changing needs. The use of international investments provides an opportunity to accumulate and manage wealth with the ability to take money from the investments in a tax-efficient manner. All of this is backed by our highly regarded service, technical expertise and financial strength.
Brexit – What's happening?
The UK and the EU negotiated and approved a withdrawal agreement and the UK left the EU at 11pm on 31 January 2020. There is now a transition period which will last until 31 December 2020 and during this period, all EU rules and regulations will continue to apply to the UK.
We continue to monitor the situation closely, including ensuring that our international business can continue to offer the choice of Isle of Man and Ireland jurisdictions to advisers and clients, and be able to service our customers as we do now.
We have developed a Brexit Q&A based on our current understanding of the situation.
Strength and Stability
Canada Life International Assurance (Ireland) DAC CLIAI is based in Dublin and is recognised as one of the world's leading financial centres. It boasts a strong commitment to international financial standards and policyholder protection. Our aim is to provide sophisticated solutions. One of the key benefits for investors of Ireland is our competitive VAT rates. We also do not pay any capital gains tax or income tax in Ireland on investments held on behalf of policyholders. We're proud that CLIAI is given five stars by Actuarial consultancy firm AKG.
Engagement policy
Under the requirements of European Union (Shareholders' Rights) Regulations 2020 which came into effect in Ireland on 30 March 2020, firms must develop and publicly disclose an engagement policy which describes how the firm integrates shareholder involvement in the investment strategy or, publicly disclose a clear and reasoned explanation about why they have chosen not to do so.
Canada Life International Assurance (Ireland) dac (CLIAI) has decided not to develop and publish a Shareholder Engagement Policy due to the fact that the Company does not make investment decisions for policyholders and has no role in advising, recommending, or selecting the investments.  Policyholders and their Advisers should refer to the Shareholder Engagement Policy of the relevant discretionary fund manager or fund manager in relation to their selected investments.
CLIAI does not take part in shareholder voting and therefore does not have the ability to influence voting outcomes.